All Articles
Company
Industry
Products
Conservation
Fishing
Grady-White Fanatics
All Years
2023
2022
2021
2020
2019
2018
2015
It's All Tuna, All the Time, for this Grady Fanatic
When Ed Beren was ready to leave Los Angeles, CA and Manhattan, NY behind, a house with a deep water dock was his biggest prerequisite. He found the house, which he enjoys, but that first Grady-White, and the others that have followed, are what's provided him years of excitement.
Fishing has been in Ed's bones since he was a small child. "My first fishing trip was with my father when I was three years old," remembers Ed. "From that time forward, if I was going fishing, I wasn't going to sleep that night. I was that excited." That excitement still rings true for Ed all these years later.
His extreme love for deep sea fishing is what drove him to move to the Hamptons. "I didn't want to get in the car and drive two-and-a-half hours every time I wanted to go fishing." Once he found the house with the dock, he went in search of the perfect boat. His first outboard, the Grady-White Express 330, which he named The Boss, fit the bill. "I learned a lot on that boat," noted Ed, who then moved up to an Express 360, The Boss II, and ultimately a 370, The Boss III. "The boat was not only roomy, but it was also powerful."
For 15 years, Ed and his fishing crew fished the canyons on his Grady-White Express model boats. Traveling 120 miles offshore, these trips average about 250-miles round trip. "When I bought the first Grady I added a tower," Ed said. "But I learned that I really didn't need that. Simplicity and having the space to move about is most important." He also says that the boat has to be neat and everything in its place to be able to reel in a fish and then be ready to catch the next one! A great working crew is also at the top of the list. He says, "A single person doesn't catch a fish. It's a team of people all working together, each focused on their own job. That's how you catch fish!"
When asked, "Why Grady-White?" Ed says, "I looked at several other boat brands, but Grady offered the right combo–a great dealer relationship and a boat that excels in design, size, and speed!" He goes on to say, "Grady-White boats are very solid and the company takes care of their customers." That, along with his relationship with Buddy Spellman at Spellmans Marine, is what has made him a long-term Grady owner. The last Express 370 Ed bought was after Grady redesigned the windshield and hardtop. "She had me at hello!" he declared. While he primarily used the boat to fish, he liked the option of being able to go below deck while a crew member captained the boat for the long ride to the canyons. This feature made Ed a self-professed Express guy–but that all changed earlier this year.
"My family wanted to spend more time in Florida, so I decided to sell my boat," said Ed. He put the boat on the market and sold it in January. By June he was chomping at the bit to own a boat again and said to his dealer, "I need a boat! What do you have?" They had a center console, Canyon 326 and a dual console Freedom 325 on the lot. "When I got on the deck of that dual console I couldn't believe how much space it had," he said. It easily fishes six adults and one child, his typical crew. He also found that the dual console design was the perfect combination of center console and express boat models. "The boat is just a real beast and gets everyone close to the action!" says Ed. "I love the design, the flair of the bow gives it a real sleek look." He went on to note how impressed he is with the great upgrades on the new Grady-White's including the tackle drawers and storage.
Since purchasing the 325, Ed and his crew have gone on about 25 fishing trips. The only thing that's kept them at the dock was really bad weather. When we caught up with Ed, he was getting ready for the first trip they'd been able to take in about 30 days, after a number of storms skirted the coast. Not only was Ed excited to be getting out on the water, but his captain, 15-year old Salvatore Coppola, was ready too. "Fish or no fish, we always have a good time on the boat," Salvatore says. He remembers a trip where they were reeling in a tuna and the tip of the rod snapped off. The tuna was really big and the rod broke before they had gotten the fish even close to the boat. "After we got over the shock and confusion, we figured out what to do and started reeling again." That's part of why Ed loves tuna fishing. "They are beautiful and strong," he says. "You can tell the size of the fish as soon as you hook it." Through the years he's developed a feel for how the big fish run. "The smaller fish give up quicker," he says. Not only is tuna fishing a hobby, Ed says it's also mathematical. "When you're putting out nine lines you've got to figure the spread," he says.     
The boat has proved to be a good fit for Ed and his crew. So much so that by the end of July he put in an order for a new Freedom 375. We're not sure who's more excited–Ed or Salvatore? Each had about the same thing to say about the new boat. "With Helm Master EX® and the horsepower of triple Yamaha 425s, the new boat, The Boss VI, is going to be powerful, fast and very stable," they say. That should be just the trick, as they usually run about 45 mph, when it's calm. As Ed reflected on his months without a Grady he said, "That time without a boat made me realize the impact of not having one," he said. "The new Grady made me feel like I'd once again restored the core pulse of my soul."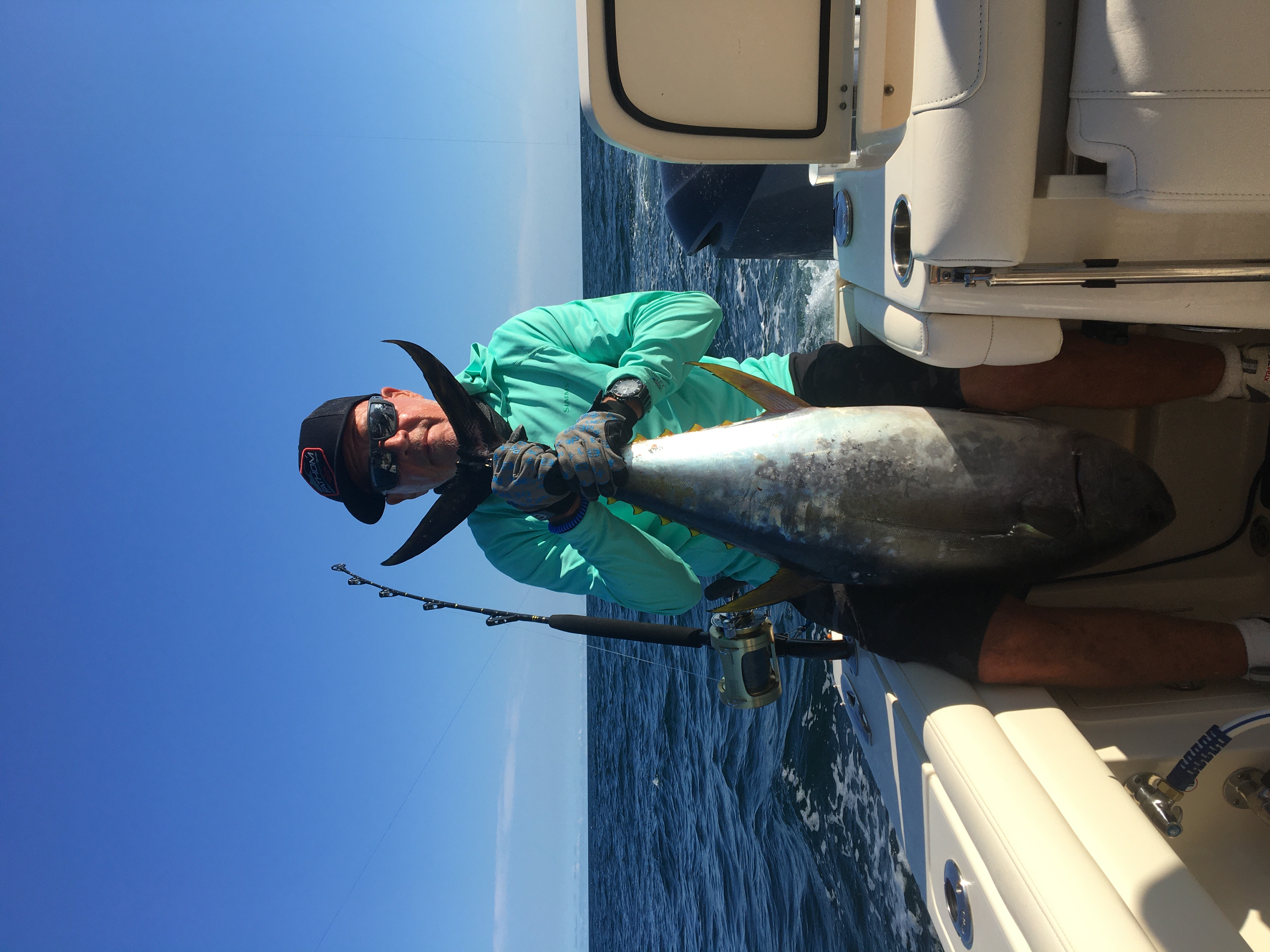 After a good fight, Ed holds up a nice size tuna.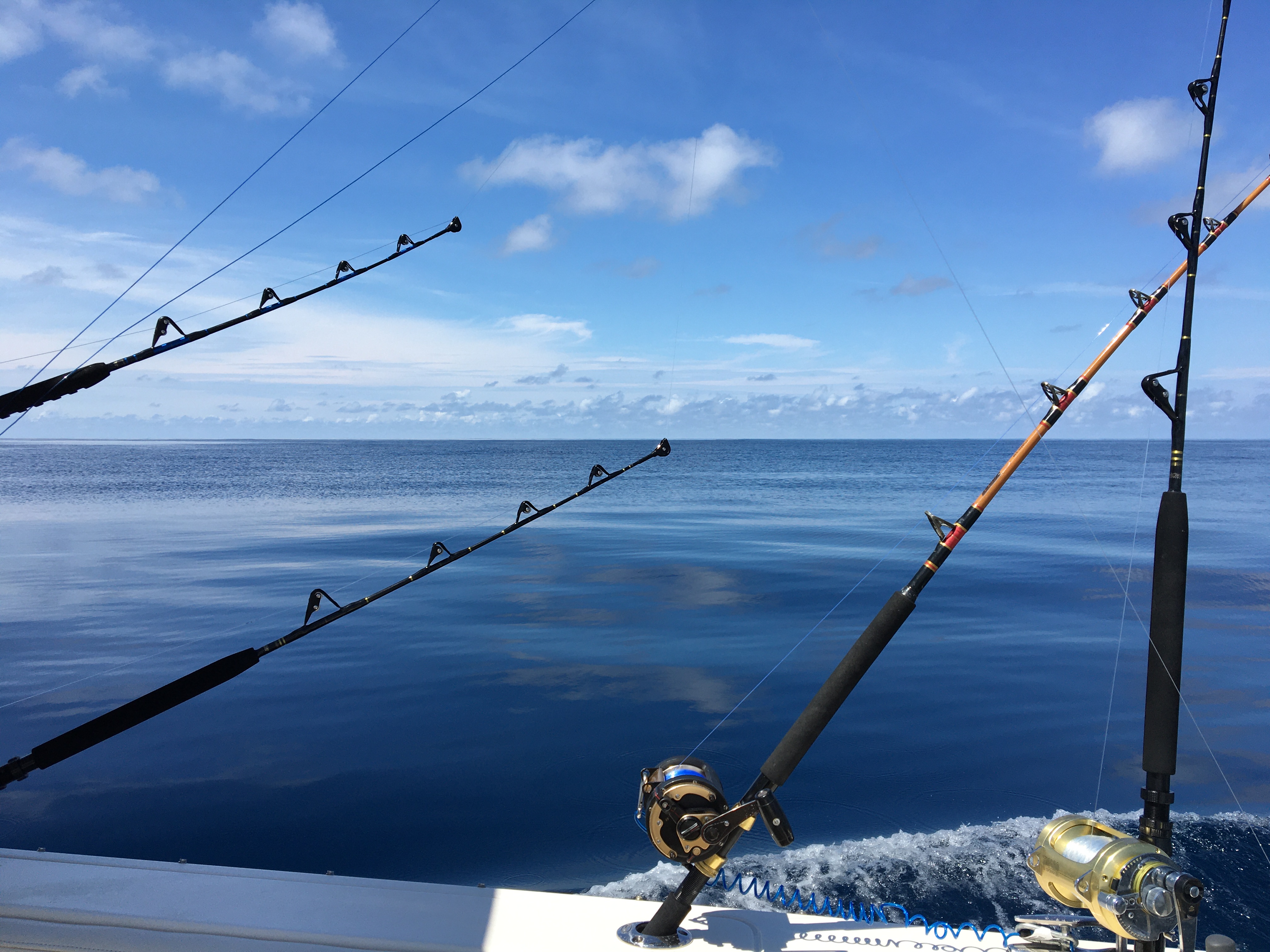 A perfect day for fishing!
After a good fight, Ed holds up a nice size tuna.
A perfect day for fishing!