Factory Tour
To protect and maintain the safety of our employees and our guests, the Grady-White factory is currently closed to factory tours due to COVID-19 safety measures. When appropriate, we will resume tours. In the meantime, we will miss seeing you and hope you will be able to visit with us later in the year. Stay safe and be well!
Watch this video where Grady-White team members share who we are and our craftspeople explain why they are passionate about creating exceptional boats just for you.
The best way to learn about how a Grady-White boat is built is to come and visit our factory in Greenville, NC. You will see the precision craftsmanship coming together at every step in production.  You will meet the dedicated team that makes up the Grady-White family. We engineer and build you a boat that will give you many years of boating pleasure. Simply register for a factory tour, and we'll be delighted to conduct a tour for you when you are in the area.
We know that not everyone can come to Greenville, so on this page you will see a few highlights of the process that will tell you a little more about us. For more information about what sets Grady-White apart,  you can visit our Grady-Built page, or better yet, visit your local dealer. Thank you for your interest and happy boating!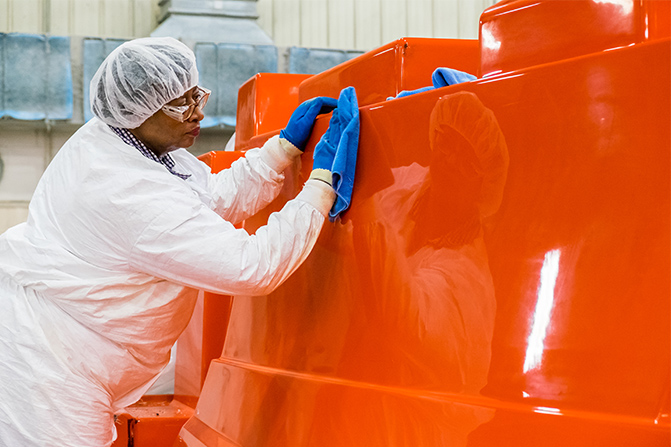 Step One
Fiberglass boats are built from the outside inward. So the molds, which determine each fiberglass part's shape, are painstakingly inspected and polished to ensure Grady-White's smooth finish.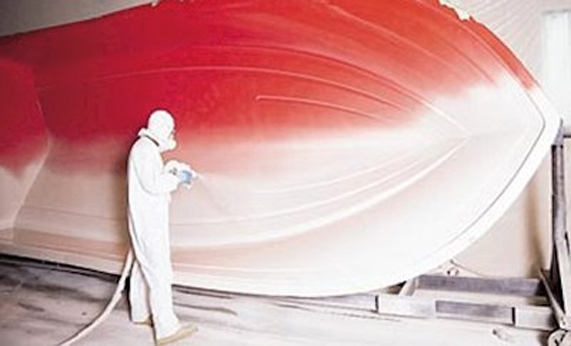 Step Two
The smooth, durable gelcoat finish is sprayed into the highly polished molds. This polyester resin forms the outer surface of a Grady-White.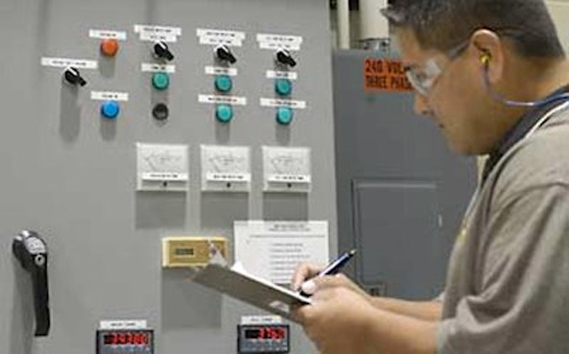 Step Three
One of the keys to quality manufacturing is consistency. Grady-White has installed temperature controlled resin tanks, so our fiberglass meets our high standards of quality and strength in winter, spring, summer or fall, no matter what the ambient temperature. One more reason Grady-Whites are stronger, more durable, and reliable than other brands.
Step Four
Fiberglass is painstakingly hand laid on the gelcoat surface. Though labor intensive and extensive, only hand lay-up ensure the consistent glass-to-resin ratios and uniform thickness that helps give every Grady-White quality, reliability, safety, and long term value. 
Step Five
To ensure uniform laminate layers which give the strength Grady-Whites are known for, the fiberglass and resin are rolled smooth and evenly distributed by hand.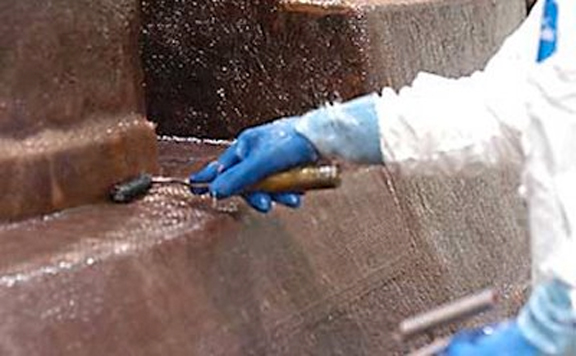 Step Six
All composite structural components. There is NO wood in the transom or structural foundation of any newly built Grady-White. In fact, Grady-White utilizes an impervious-to-water, high density, closed-cell polyurethane foam reinforced with woven roving and continuous strand fiberglass as the basis of our structural stringer systems and transoms.
Furthermore the sturdy composite transom on most new Grady-White models is reinforced with a solid aluminum transom angle brace to distribute torque and provide unfailing strength. And even though it's not required for boats over 20 feet, each and every Grady-White of every size has enough sprayed-in foam flotation to ensure that the boat is unsinkable. No boat brand has better certified flotation characteristics.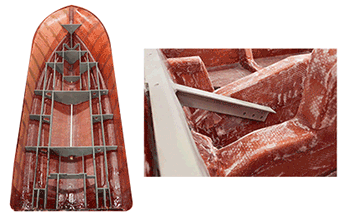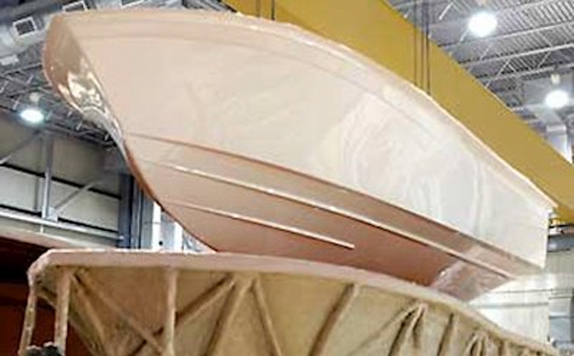 Step Seven
An advanced evaporative cooling system is part of Grady-White's lamination area. This system not only provides a more comfortable work area, enhancing efficiency and productivity for our lamination teams, it allows heat to dissipate evenly while each boat "cures" in its mold. This ensures that your Grady-White will always retain its original shape for optimum performance plus long-lasting durability and value. Our limited production methods are more time consuming but they help promote quality.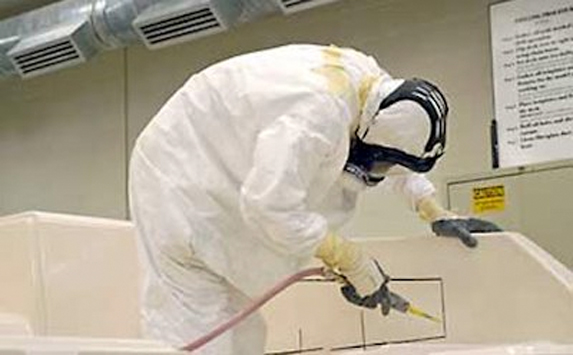 Step Eight
As hulls, decks and smaller parts leave the lamination area headed for quality control inspections and assembly, Grady-White smooths edges, cuts windows and openings, and grinds edges in dust free booths to ensure perfect fits. In addition, these booths help create a cleaner plant and more comfortable working conditions for our grinding teams.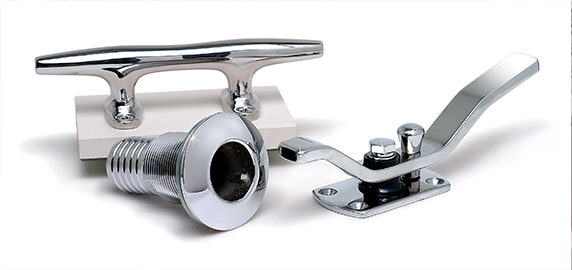 Step Nine
Standard deck hardware is 316L stainless steel with much more nickle than the 304 stainless steel used by competitive boats. Even the through bolts and locking nuts used to secure hardware are laboratory grade stainless to resist the elements.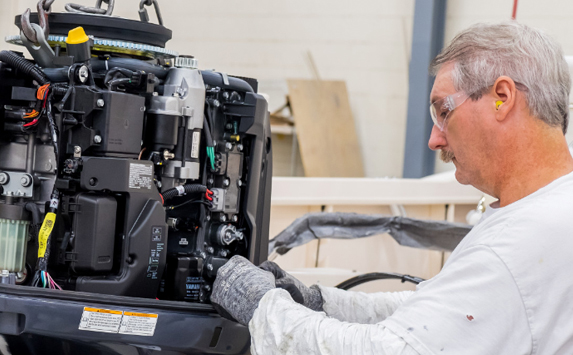 Step Ten
Expertly trained Grady-White craftsmen make certain that the installation of Yamaha four-stroke outboard engine(s) on your Grady-White is done exactly right. Factory rigging also means that your installations are covered by factory warranties, and that all power systems are rigorously inspected by our quality control teams including in-house cranking and actual running tests. 
Step Eleven
Grady-White has over 150 quality checkpoints in our manufacturing and assembly process. No one in the marine industry has more stringent and effective quality control systems. Windshield systems, hardtops, and canvas options are installed. Each strap and fastener is fitted at the factory before the canvas is repacked for shipment.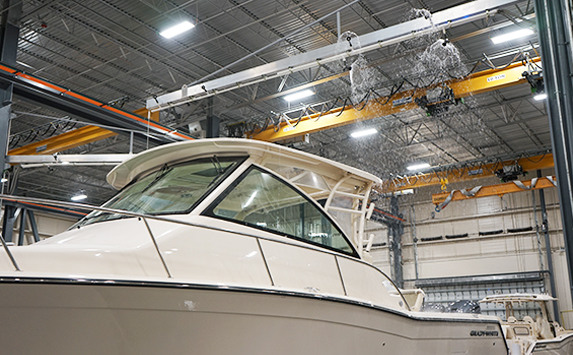 Step Twelve
As one more assurance of superior quality, each cabin boat receives a 15-minute shower to check for leaks. The result is quality, reliability, safety, and long-term value that you and your family will enjoy for years to come.
Thank You!
Thank you for spending a few moments with us. As you can tell, attention to detail is the hallmark of our production facility. We know that every boat that leaves here is destined for a life of fun and hard work too. That's why we build in peace of mind for you and your family. If you haven't looked at a Grady in person yet, spend some time with your local Grady-White dealer. Take a demo ride. Meet other Grady owners: You'll hear lots of reasons why you have the right boat when you buy a Grady-White.