Kris Carroll, President of Grady-White Boats, Recognized with 2017 STEP Ahead Award Honoring Outstanding Women in Manufacturing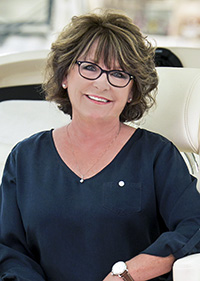 The Manufacturing Institute is recognizing Kris Carroll as one of the marine industry's four honorees for 2017 STEP Ahead Awards at a gala in Washington, D.C., April 20, 2017. The institute is affiliated with the National Association of Manufacturers.
The STEP (Science, Technology, Engineering and Production) Ahead Award celebrates women nationwide who are role models in manufacturing, and have demonstrated excellence and leadership in their careers in all phases of the manufacturing process. STEP Ahead aims to "close the skills and gender gap" and inspire future generations of women to consider careers in manufacturing.
"Women (like Kris Carroll) exemplify the path an exciting career in manufacturing can take," said Heidi Alderman, 2017 chair of STEP Ahead, and senior vice president of BASF Group's Intermediates North America division. "STEP Ahead recognizes women nationwide for their significant achievements in the field of manufacturing, and the positive impact on their companies and the industry as a whole."
Kris began her career at Grady-White more than 40 years ago as a production control clerk. She worked her way up through many areas and roles at Grady-White to become president in 1993. She was the first female president of a major boat company, and her clear vision and effective leadership touched all aspects of the business. She has helped build and inspire a dedicated workforce of craftspeople doing fulfilling work that they enjoy, and has created a strong corporate culture based on education and empowerment.
She is a mentor to many and serves on a range of boards where she is able to offer leadership and guidance. Over her career, Kris's efforts have resulted in top honors for Grady-White in every third-party study of customer satisfaction in the marine industry, including eight coveted JD Power and Associates customer satisfaction awards, and 15 NMMA CSI customer satisfaction awards to date, securing Grady-White Boats' position as one-of-a-kind world class boat manufacturer.
Read more about our impassioned leadership at Seven Best Reasons to Buy.