All Articles
Company
Industry
Products
Conservation
Fishing
Grady-White Fanatics
All Years
2023
2022
2021
2020
2019
2018
2015
Love blossoms on a Grady-White!
David Chappell and his family were assisting Grady-White during a photo shoot in Morehead City in June of 2015.  Marketing Vice President Shelley Tubaugh asked if son Ben knew any young ladies of about his age who were boaters, and who might be available to model. Ben knew Sydney Pfaff casually from work at a local restaurant, and asked her if she wanted to participate.
Sydney did. Over long hours on the photo shoot, with the director saying to Ben, "Get closer, look like you like her," "Put your arm around her," "Hold her hand while you walk on the beach by the boat," a relationship developed.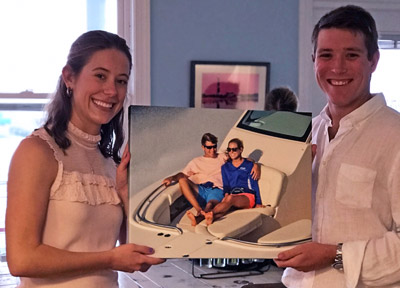 Their romance blossomed after that week, with Ben visiting Sydney on her semester abroad, and their families spending time boating together in Morehead City.
"I was thrilled when David called and asked for a photo from that shoot," Shelley recounts. "The Chappells wanted an enlargement to present to Ben and Sydney after Ben's proposal."
Fittingly, on April 13, 2018, Ben proposed on the dock between the Chappells' two Grady-Whites–a Canyon 306 and a 251 CE. Now the question is, will a wedding on a Grady be next?