All Articles
Company
Industry
Products
Conservation
Fishing
Grady-White Fanatics
All Years
2023
2022
2021
2020
2019
2018
2015
The Thinking Behind Grady-White's Boat Designs
By Christian Carraway, Product Designer
World-class customer satisfaction doesn't just happen. At Grady-White Boats it is a culmination of our many decades of vision and values about delighting our customers, paired with continuous private ownership, and dedication to continuous improvement, to accomplish what few premium products in the industry have attained. From an engineering and design perspective, it's not just about our vision for an exceptional finished product, but also our customer's vision for their overall experience on their new boat.

There are several ways we learn about what our customers want in a new boat design or when an existing model is being "reimagined", and one important way is by meeting and getting to know them. We begin by reading and taking notes from our customer satisfaction surveys. In addition, engineering team members will attend boat shows and dealer events for the opportunity to have one-on-one communication with boat owners and buyers. Our sales team, who have the most contact with our dealers and customers, regularly bring back requests and suggestions from their trips, and together we work to determine what can be incorporated into our various models and create new innovations.

We also encourage two-way communication with our customers through our customer relations team, who document customer suggestions and pass them on to the appropriate person or department. Another great opportunity we have is to meet with customers when they visit the plant for a tour. Whether they come individually, or as a group, we love the chance to talk with them and listen to their experiences and thoughts about their boats.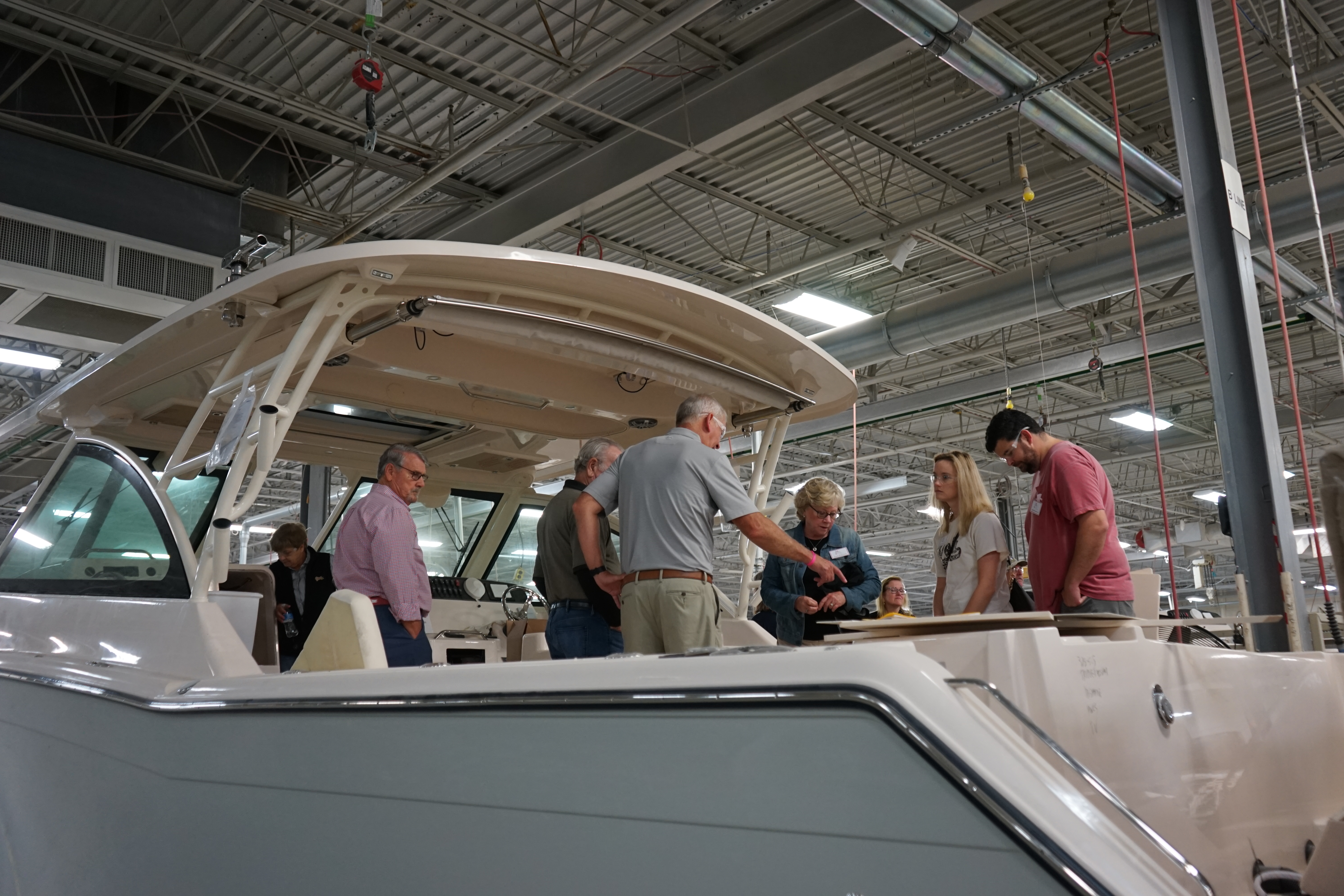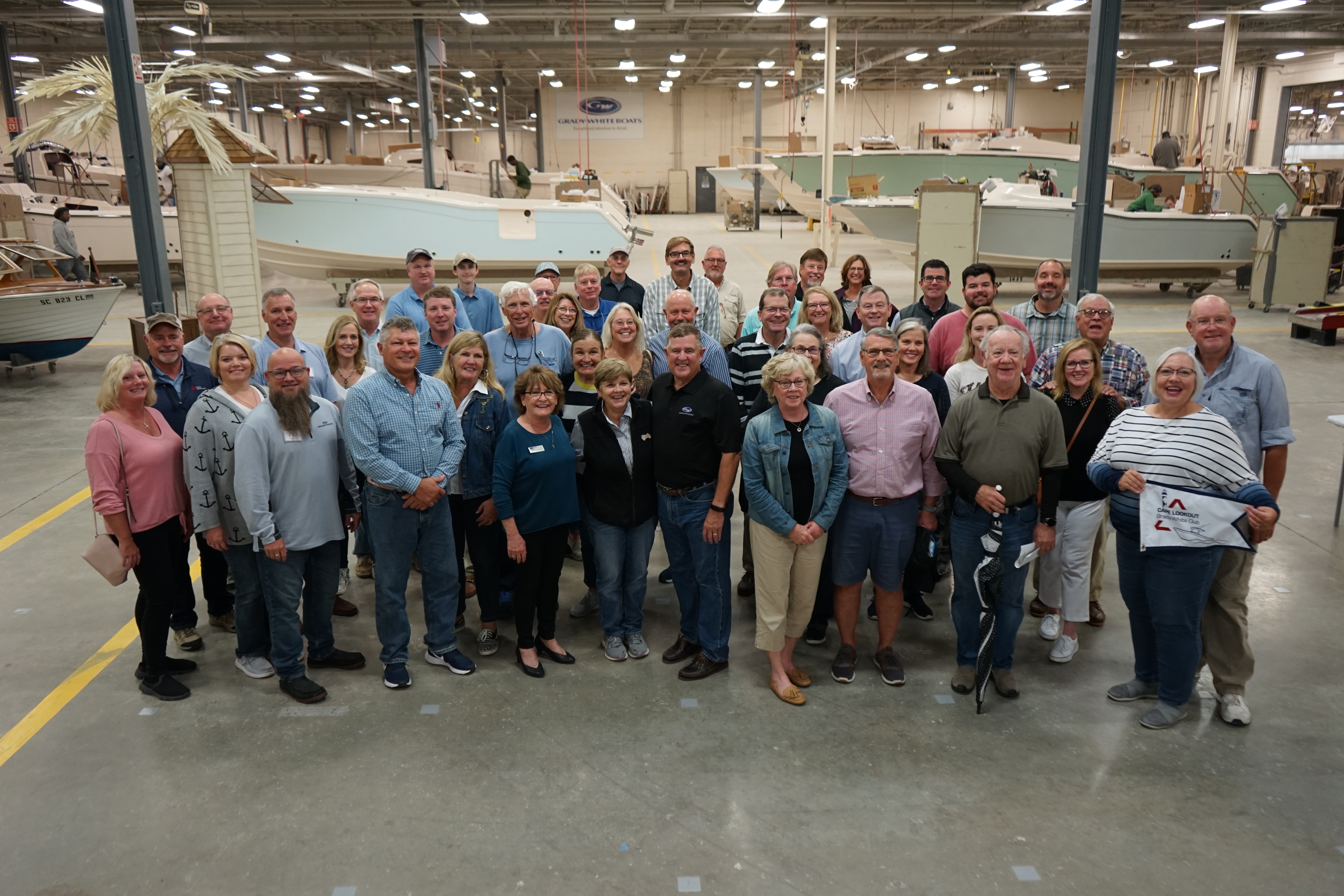 We often have Grady-White Clubs visit for a factory tour. After the tour, they join us for lunch, and we ask questions and they share their thoughts about their boats. The Grady-White Sales and Marketing staff sets up these events, and alongside them, the customer relations and engineering team members attend and take notes and answer questions. Our President, Kris Carroll, makes it a priority to personally greet our customers and spend time at these events hearing what they have to say. After these meetings, our team puts together all the notes from the discussion and we divide up the things to follow up on, and ideas to consider incorporating in the future. Our engineering and production departments love to hear what customers have to say! This helps us to develop new models and enhance existing ones. In fact, many innovative ideas and patents developed at Grady-White are a result of our engineering and design team integrating customer requests into our continuous improvement projects and new product designs.
Engaging with our customers on a personal level is just one way we improve our products. The other, and to me one of the absolute best ways, is to be customers ourselves. Many of our employees personally own Grady-White boats, and we're always looking for ways to improve them. Recently, my family and I put over 120 hours in a five-month period on our new Marlin 300, "C" Dreams III Hundred. In addition to day trips, we spent close to 20 nights on her in a dozen different locations. Over that time, several improvements and upgrades were made, and continue to be implemented, with a majority of them working well, and being carried over to new boats in production. Before the Marlin 300, I ran a 251 Coastal Explorer for 7 years and prior to that, a Tournament 205. All in all, thousands of hours have been spent by Grady-White employees cruising, fishing, skiing, tubing, and overnighting on Grady-White boats. It doesn't get much better than enjoying The Grady Life with your family, while simultaneously finding ways to make The Grady Life even more enjoyable for our current and future Grady-White owners.
From our award-winning SeaV2® hull, that delivers boating's softest and most stable ride, to the many special features and equipment found on our boats, I can tell you it is all done with one thing in mind, continuing to achieve our unprecedented and unmatched record of delivering the best boating experience for Grady-White owners.
Read more about our many patents and innovations as well as our pioneering designs here.