All Articles
Company
Industry
Products
Conservation
Fishing
Grady-White Fanatics
All Years
2023
2022
2021
2020
2019
2018
2015
Rough Weather No Problem for this Grady Enthusiast
Karen Smith always loved being in and on the water as a child. Even when it was cold and rough, you could find her surfing, snorkeling, fishing or exploring. She started her own boating endeavors with small boats, beginning with an inflatable boat with a 1.75 horsepower motor, and later graduating to small skiffs. That all changed after she attended a boat show in Richmond, Virginia, in 1992.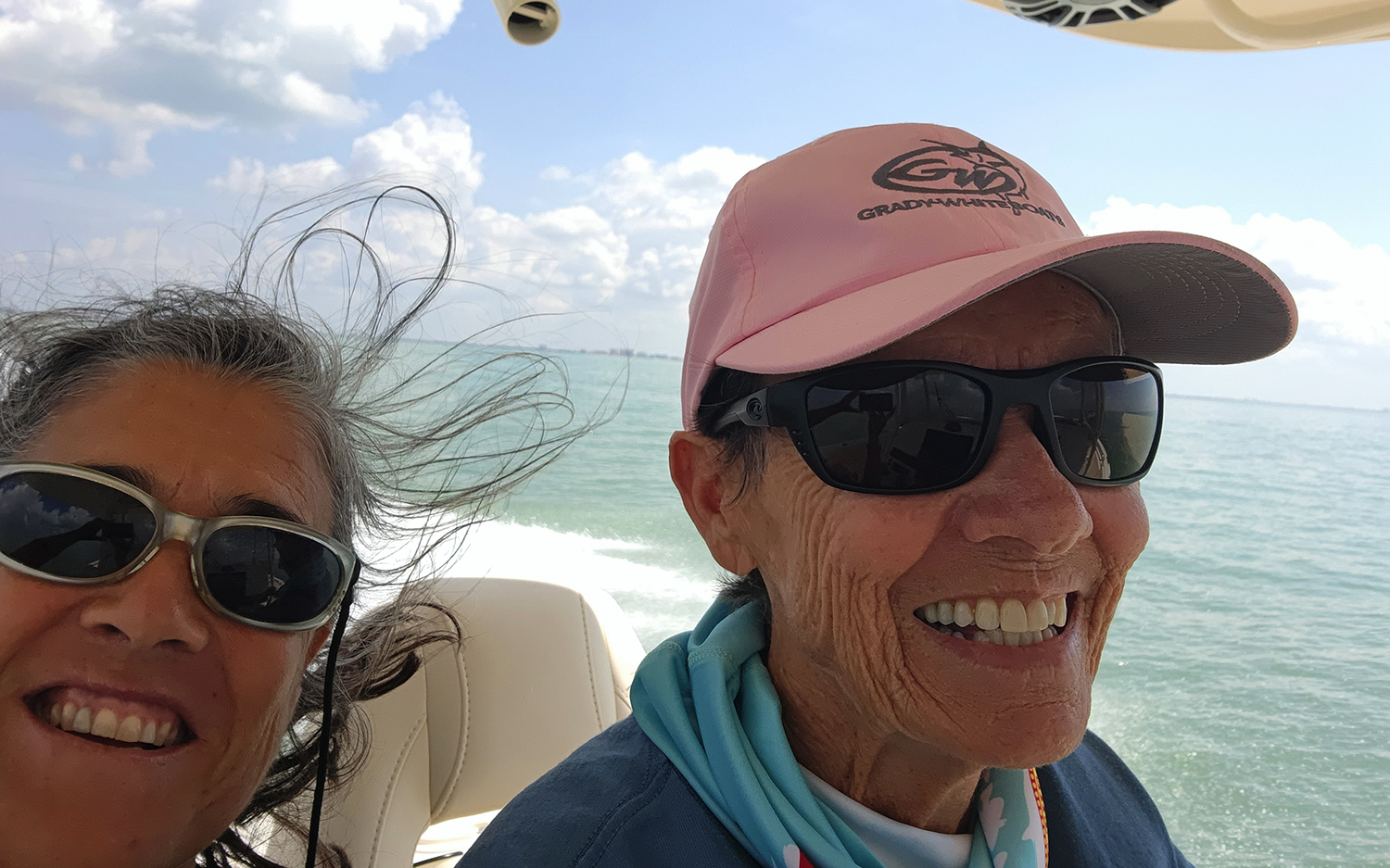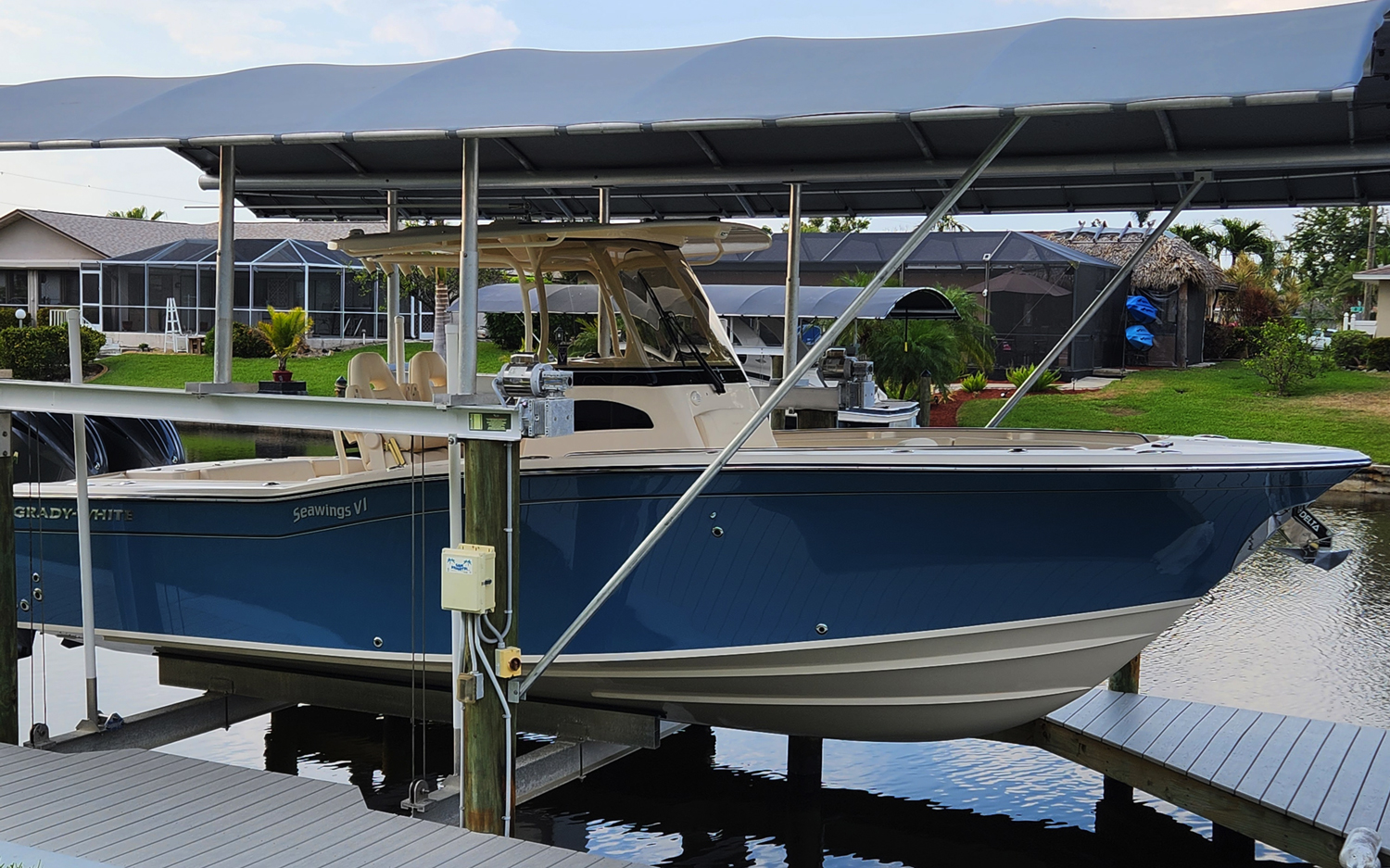 Karen had gone to the boat show with her friend, Doreen Warihay, to just look around. "I knew the quality of Grady-White boats and frankly was afraid to get on one because I knew I'd want to buy it and wasn't sure I was ready," Karen remembers. Doreen convinced her to climb aboard a Grady-White Overnighter 204C and she was really impressed with the boat. "There was a visible difference in the quality, safety, and overall design of this boat. It was hands down above the other boats I'd looked at that day," said Karen.
The pair started talking to the dealer, Southeastern Marine. Karen told him she primarily wanted to fish and would be taking the boat back and forth to the North Carolina Outer Banks. When Karen said she'd be towing the boat with an old Jeep, the dealer noted that it was too dangerous and wouldn't sell her the boat unless she got something bigger. Doreen immediately responded, "I'll buy a Jeep Cherokee if you buy this boat," and that was the start of many exciting Grady excursions for these two avid boaters.  
Karen and Doreen boated extensively throughout the waters of North Carolina, and they especially loved to fish, even going offshore in cold conditions. "As long as it wasn't cooler than about 45° and the sun was shining, we'd bundle up and head offshore," said Karen. "Once we found the right spot, we'd put out the lines and go back up to the helm to get out of the wind. When a fish would strike, we'd put on our gloves, run out, and reel it in!" A far cry from the days of fishing on the inflatable, these trips are still some of Karen's favorite memories from her time on the Outer Banks. Ten years after purchasing the Overnighter, she upgraded to a larger cabin boat, the Seafarer 228. The wider beam and the twin engines were a plus, in addition to the larger cabin. This proved especially beneficial one time when they made the three-and-a-half-hour drive from Richmond to the Outer Banks, not knowing that Karen's vacation cottage had been rented out for the weekend. Not long after arriving, there was a knock at the door – and that's when she discovered the cottage was in fact rented. "I told them we were just there to make sure the house was ready," Karen said. "Doreen and I quickly grabbed our bags, went to the dock, and hopped on the boat." There was a big fishing tournament taking place that weekend, so they were lucky to get one of the last slips at a local marina, where they spent the weekend on the boat. "The spacious cabin on the 228 was most comfortable and it turned out to be a lot of fun with all the tournament activity going on around us," Karen said. She also recalls getting a lot of compliments on her boat from the owners of the large sportfishing boats.      
Eventually, Karen retired and moved to the Outer Banks where she continued to enjoy many more adventures on her Grady-White. She went offshore fishing so often, even at night, that the local Coast Guard members recognized her and her trusty boat. One particularly memorable event was when a nearby town hosted a music festival on the water featuring renowned artist Joan Jett. The water was rough on the day of the concert, but because the Seafarer was such a rugged, stable boat, Karen didn't hesitate to keep her plans. While no other boats went to the concert by water, she and her friends did, and the payoff was big. "We got front row seats!" she recalls.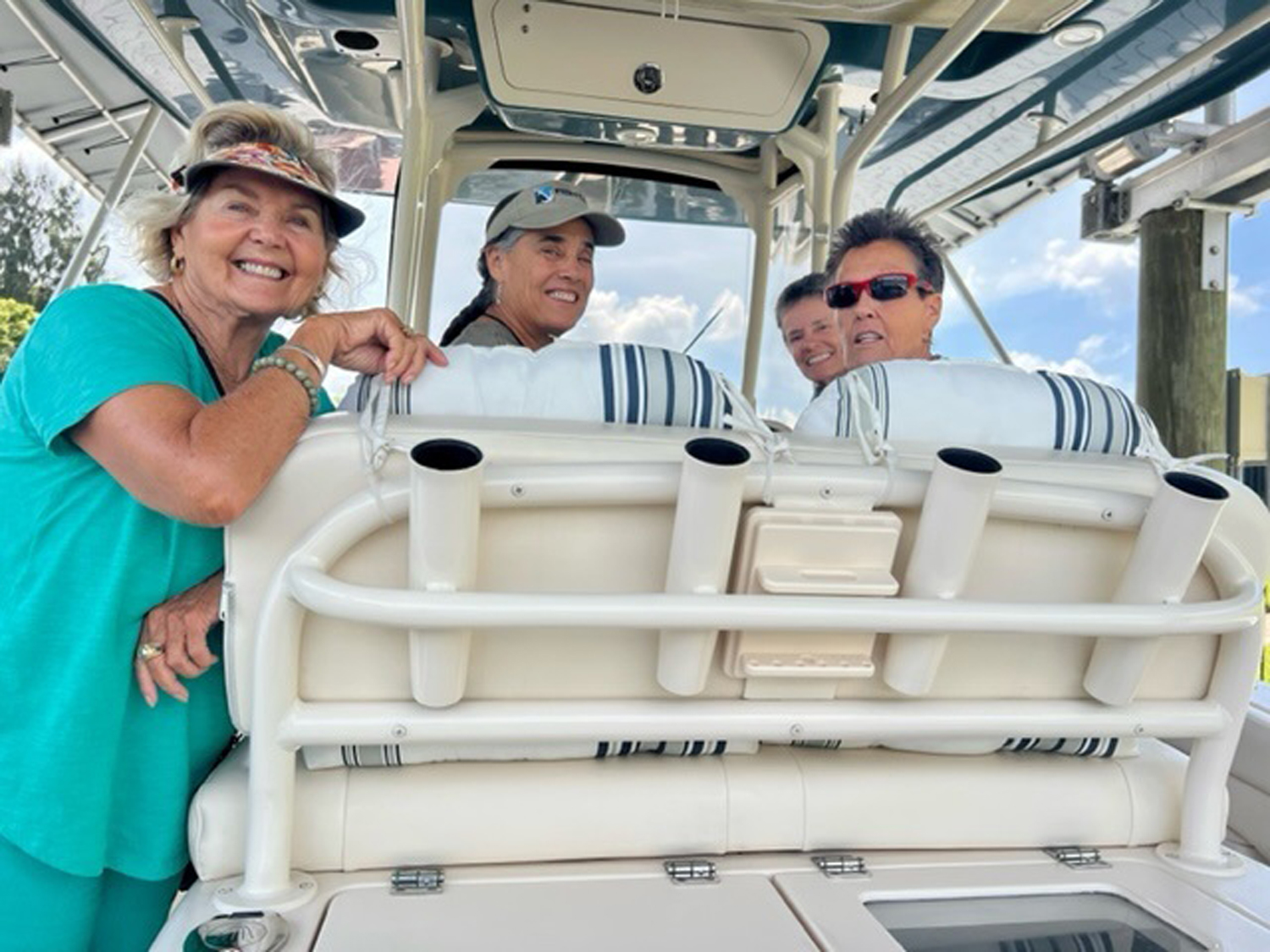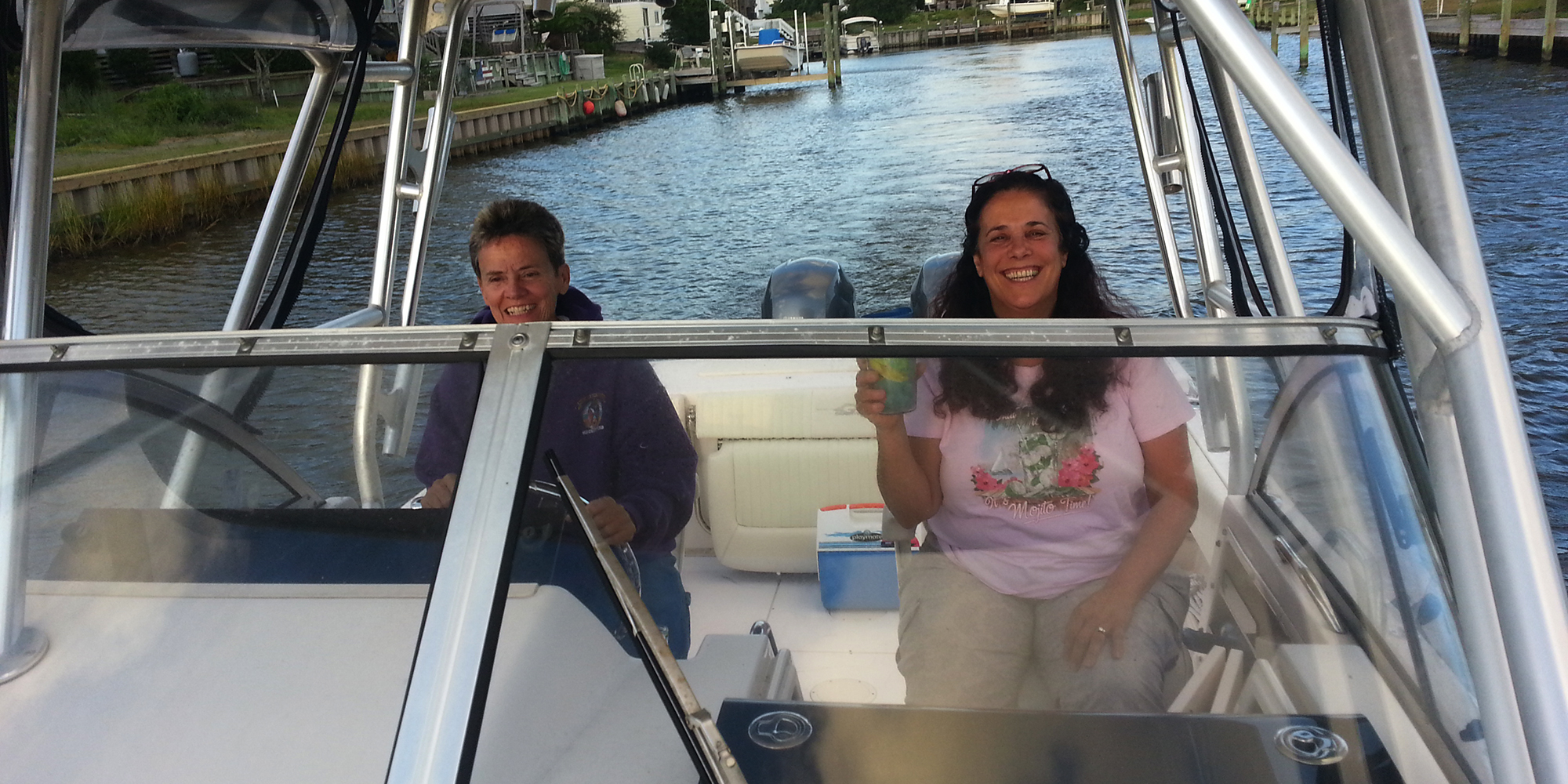 After 25 years of boating up and down the Outer Banks, Karen and Doreen were ready for a new location, particularly one with a warmer climate that would allow them to boat year-round. By this time, Karen had upgraded to a Gulfstream 23, so when she decided to move to Cape Coral, she sold the boat and headed south. After finding a canal front lot and building a house, the next order of business was finding a new Grady-White. This time, Karen chose a Fisherman 236, which she says was an excellent boat for her first center console. She and Doreen took that boat to Marco Island where the crystal-clear water was perfect for snorkeling. Not long after, she traded up to a Canyon 271. "I like to go out when it's rough, so I wanted a wider beam and also decided to go back to twin engines," she said.  
After purchasing the 271, Karen and Doreen made plans to go to Key West, Florida, by boat. The weather did not exactly cooperate. With winds blowing 25 plus, they didn't see another boat on their trip, but they took it slow and had no problem getting there. After tying up at the dock, the dockmaster called to say, "I guess you didn't make it?" and much to his surprise Karen replied, "We're here!" It didn't take long for word to spread that two women had braved the rough seas and boated all the way to Key West that week.
This past fall, Karen and Doreen sat on their lanai as Hurricane Ian made its way ashore. Having already lost power, they had no idea the storm's path had changed course and was passing very close. Fortunately, the boat was strapped down tight on the lift and sustained only a little damage to the hardtop. When Karen took it to the dealer for repairs, she saw the new model upgrades Grady-White had made to the 271 and couldn't resist ordering a new one. A top selling point was the plush Command Elite helm chairs which easily adjust to the perfect position for every captain. Another was the new Helm Master EX® with Full Maneuverability – offering a range of exceptional handling options. As always, she was equally pleased with the team at Fish Tale Boats. "Ray Jahn, Capt. Jeff Hunter, and Eric Riley are really super, take great care of our boats, and are a pleasure to work with," said Karen.
After recently taking delivery of her new boat, Karen is excited to take trips with the local Grady-White club and start planning adventures of her own. Sadly, the hurricane damaged a lot of the area marinas and restaurants, so many are not open right now. To fill their time, Karen and Doreen are planning some long-range trips. First on the list is Islamorada in the Florida Keys. They also want to go over to the Bahamas. "Though I have no doubt the boat can handle rough seas, I think this time we'll give ourselves a longer window to travel and stay put if the weather gets really rough," says Karen.
She also continues to frequent the local boat shows just to see what's new and to climb aboard other brand boats to compare. She's happy to report that the impressive attention to detail that Grady-White puts into every boat they design is still as prevalent today as it was when she bought her first Grady-White in 1992. "I can honestly say, I've still never seen anything better than a Grady-White boat!" she says.