All Articles
Company
Industry
Products
Conservation
Fishing
Grady-White Fanatics
All Years
2023
2022
2021
2020
2019
2018
2015
"Get the Grady for the Ultimate Boating Experience!" Says This Ten-Time Grady Owner
The first thing Theo Ruijgh wants to tell you when he talks about his Grady-White boats–all ten of them, including one he purchased twice–is that every day he gets on his boat is a good day. He should know! Two times he has sold a boat with intentions to stop boating, but within a week or two he realized he missed it and bought another.
Theo, his wife, Marese, and their toddlers, a son and a daughter just 14 months apart, moved to the United States from Holland in 1999. They lived on Long Island, NY, in a small beach community where everyone owned boats. That's when Theo purchased his first boat. Between 1999 and 2001, he owned two different boats–neither was a Grady-White, and both lacked in quality, ride, and overall performance. In 2001, he purchased a Grady-White Sailfish 282. From that point forward, he never looked at another boat brand! "I loved the boat, the way it handled, and the twin engine package," recounts Theo. "I really learned the value of a Grady-White above all other boat brands after buying the 282."
The Ruijgh's community was tight-knit and very family-oriented. All the children were close in age, and each summer they would spend every weekend boating together. The Ruijgh family loved living The Grady Life! But after their children got older and were too busy to do much boating with them, Theo thought maybe boating wasn't going to be as special anymore, and he sold their boat. Immediately he began to miss it. A week later, he and Marese were attending the 60th anniversary celebration of their local Grady-White dealer, Port of Egypt Marine. Marese made a collage for the event with pictures taken throughout their years of enjoying their Grady-White boats. While she was reminiscing with the other guests, Theo was examining a boat that had caught his eye, a used Express 330 that he was sure had been his boat before. All it seemed to be missing was the name on the side, Dutchy. He was right, and by the next day he'd bought her back! The 330 was a large boat, and this time he decided to keep it at Port of Egypt's marina, which in his words is a "magical place!"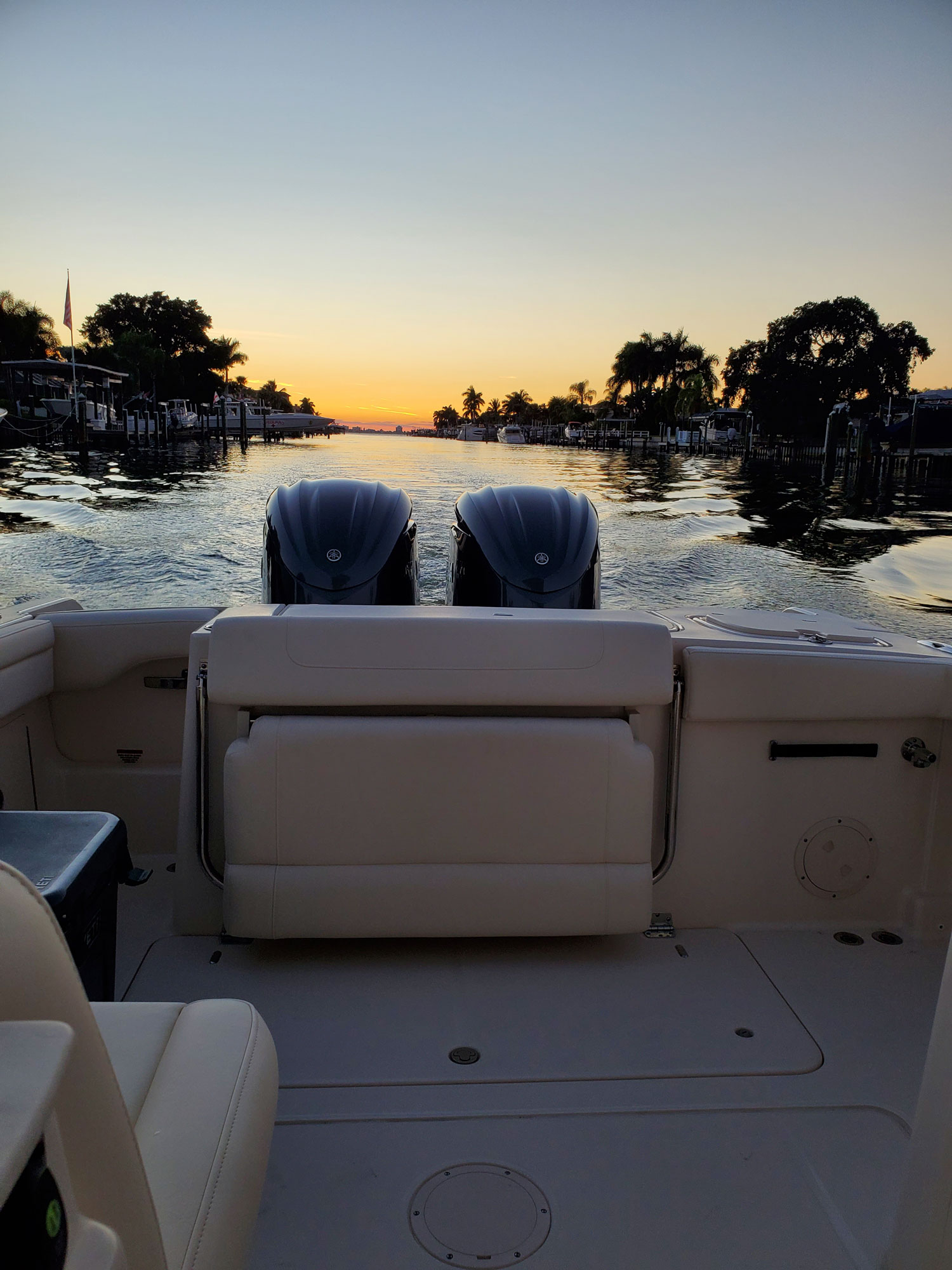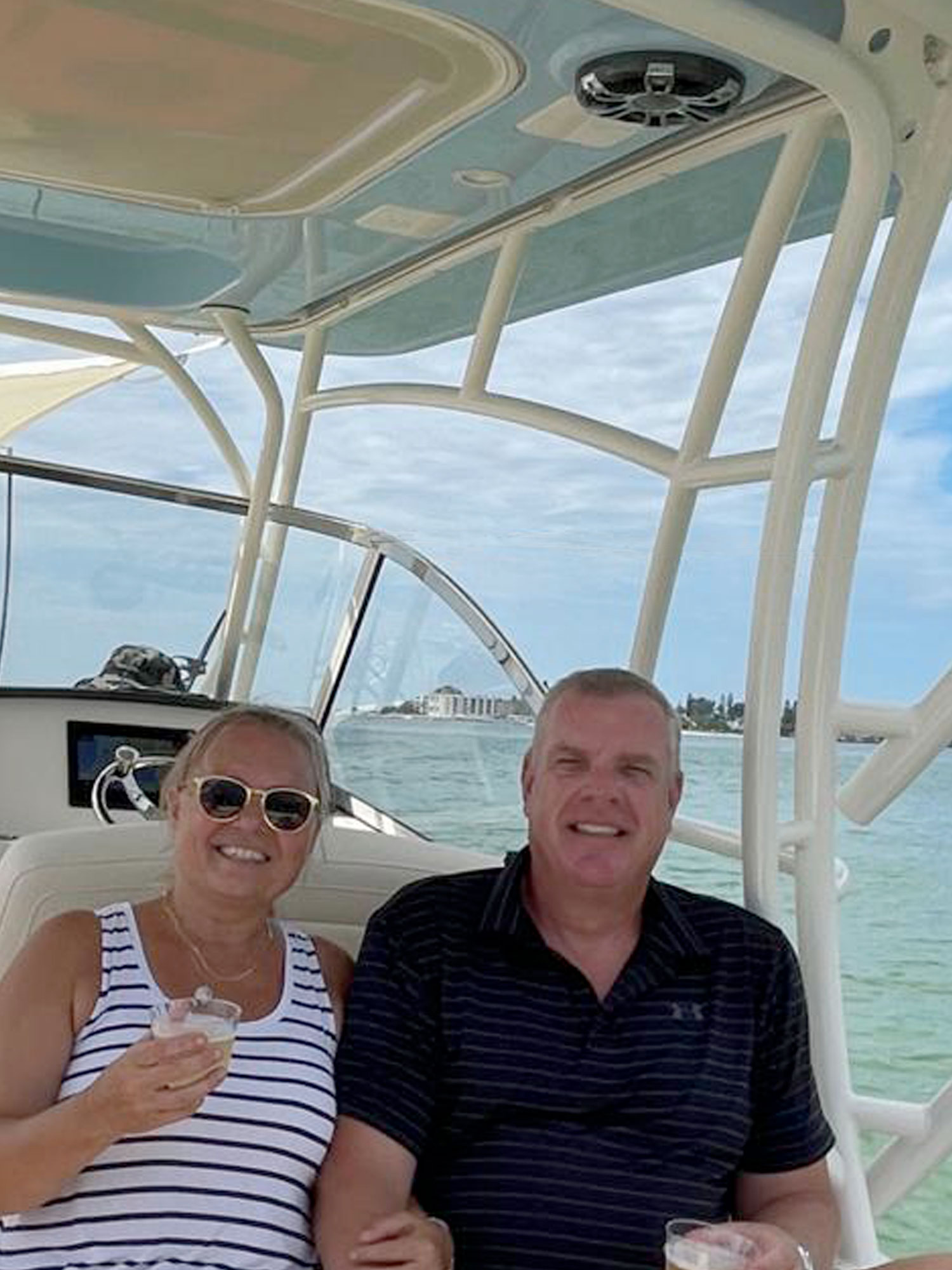 Theo loved the 330, but ultimately found his favorite model, a dual console, in 2004. Over the next few years he bought a Freedom 225, 275, and 255 from Port of Egypt. Later, when the Ruijghs moved to their new home in Clearwater, Fl, the dealer shipped the Freedom 255 along with them. When they decided to sell the house in 2019, they made it a package deal, selling the boat with the house. It wasn't long before Theo once again missed having a boat. He soon found himself at Quality Boats of Clearwater buying a Fisherman 216 and later upgrading to a larger Freedom 285 this year.  
While Theo and his family have loved every Grady-White they've owned, the 285 hits the spot. "It's not too small, not too big, handles like a big boat, and the wider beam offers plenty of space," raves Theo.  He also loves the twin 300s which quickly power the boat on plane! Every Monday night, Theo can be found at the marina washing his boat and keeping it in top shape. Sometimes, he and Marese will enjoy a ride together after he's finished; other times, he'll just relax on the boat with a drink and enjoy a little alone time.
Now, Theo and Marese are looking forward to reliving the days of boating with their children back on board. This year, their son moved from New York City to Florida to start working with Theo. While their daughter currently lives abroad in Holland, she recently visited and was ready for a boat ride soon after her arrival. Having two very brief moments without a boat, it's clear to see that for Theo every day he's on his Grady-White boat, whether in the water or at the marina, is a great day!