All Articles
Company
Industry
Products
Conservation
Fishing
Grady-White Fanatics
All Years
2022
2021
2020
2019
2018
2015
Dual Console or Center Console – A Question of Two Boats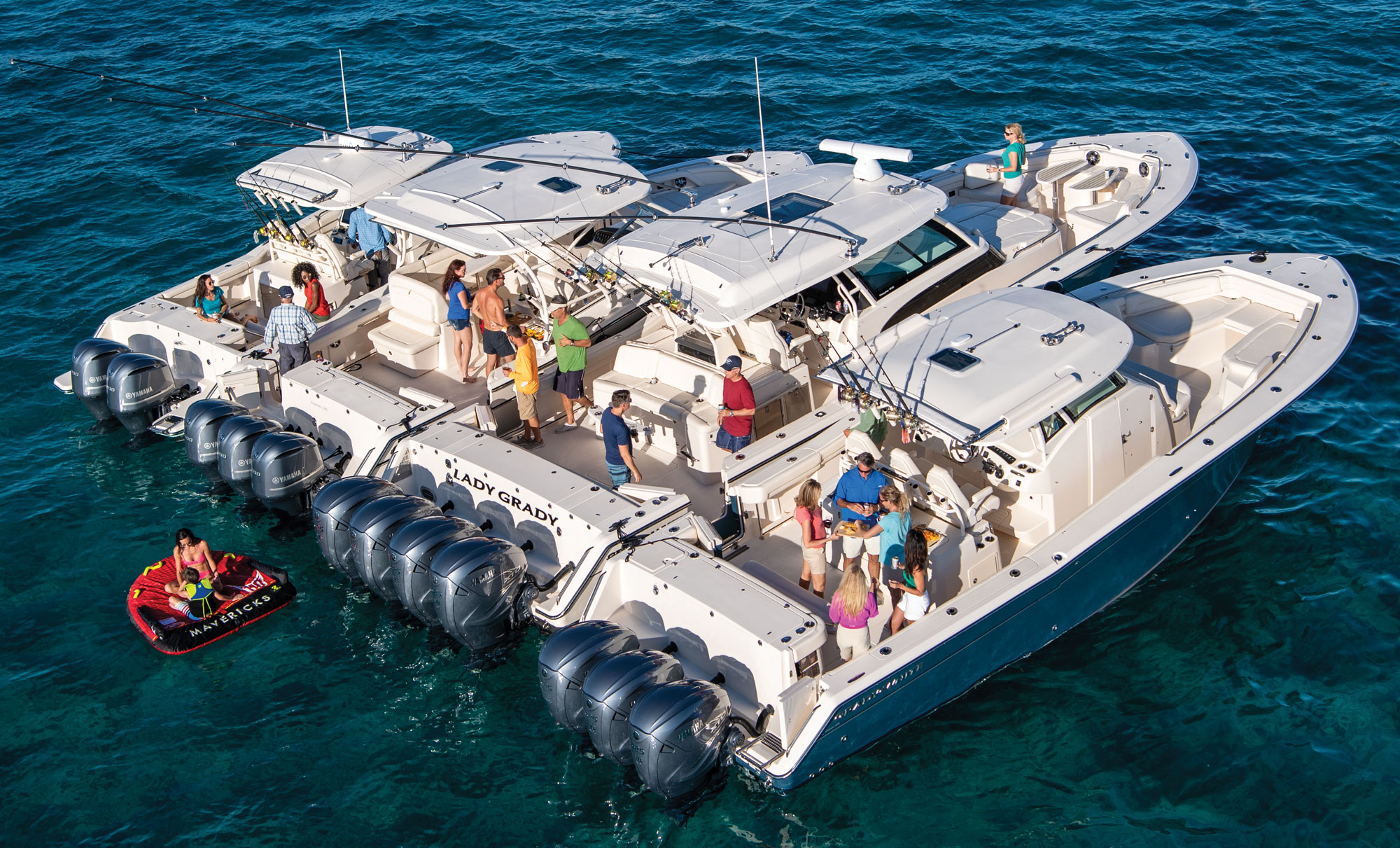 Whether you're about to purchase your first boat, or you're a seasoned boat owner about to buy your next "favorite" boat, you might be contemplating which model category is right for you and your family. Here's a simple comparison of two options that might help in your decision making. 
Center console boats were traditionally viewed as boats built just for offshore fishing. Grady-White has engineered their center console models to be not only rugged and fishable, but also luxuriously comfortable. Dual console boats, originally introduced by Grady-White in 1979, have taken off in popularity in recent years because of their family friendly layout.
These are a few notable differences between the two boat models:
Dual Console             
Dual console boats have a center "aisle" with a console on each side. The helm sits on the starboard side console and the port side offers storage or a head area. Passengers get to the bow of the boat walking through that center opening in the wrap around windshield.
The wrap around windshield allows passengers to get out of the elements. Even more so when curtains are added to the canvas or hard top.
Helm seats one or two, depending on the size of the boat, with companion seating for up to one or two, across the aisle. Larger boats can have seating for four or more under the hardtop.
Design more focused on entertaining and comfort with lounge seats in both the bow and the cockpit area.
The bow has cushioned seating and can have a sun pad insert added.
Livewells are optional on smaller models.
Dual consoles are still equipped with fishing features like rod holders, under gunwale rod storage and fish boxes.
Center Console
The helm sits in the center of the boat with space available to walk to the bow on both sides. The interior console area is in front of and below the helm on larger models.
Passengers have slightly less protection from the elements because the helm is open on both sides. However, optional T-top wing curtains can be attached to the gunnel to provide added coverage.
An open deck allows anglers to quickly move throughout the boat, especially stem to stern, when fighting a fish.
Helm area seats a minimum of two people and up to four, behind the console.
Bow can be turned into a casting platform and has Grady's patented foldaway forward facing backrests.
Livewells come standard on Grady-White Center Consoles 23-feet and above.
Every Grady-White is engineered for both comfort and fishability. Dual Consoles are often the model of choice for people who primarily enjoy cruising, water sports and entertaining, but also want a boat that allows them the opportunity to fish inshore and offshore. Grady-White Center Consoles are geared toward the avid fisherman who also wants to spend time with family cruising or enjoying water sports. Mid-size Dual Console models incorporate optional sinks, and galleys with refrigerators and grills in the cockpit for entertaining. These items are not typically offered on mid-size center consoles to allow more open cockpit space for fighting fish.  
A good way to compare dual and center console models is to visit Grady-White's new website and use the compare models feature and read through the standard features and available options for each model.   
No matter what model suits you and your family best you can rest assured that your Grady-White boat will combine rugged durability with the comfort and conveniences you'd expect from the world's highest quality boat manufacturer.