Cover Girl! The All-New 2017 Freedom 235 Stars on the Front of March 2017 Boating Magazine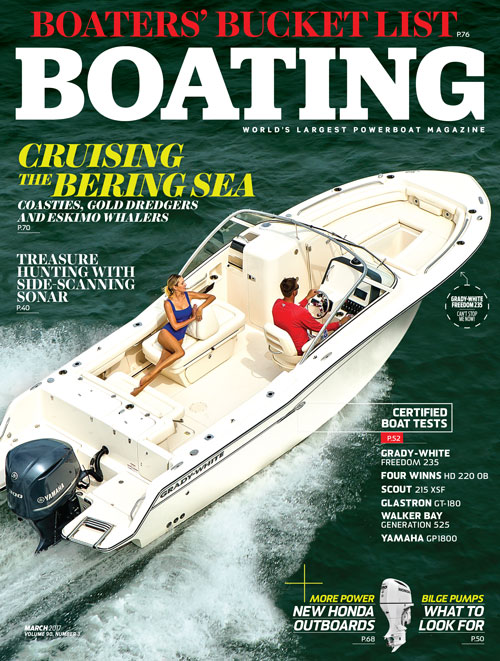 A handsome cover, and raves from Boating magazine's renowned boat review expert, Randy Vance, make for an exciting and very flattering write-up about our all-new Freedom 235. Tom King's beautiful photograph shows off many of the innovative feature of this red-hot-selling 23-foot dual console.

"...A sporty dual designed to win the hearts and minds of many family-oriented anglers," reads the magazine's content page synopsis. "The Grady-White Freedom 235 offers the choice to run hard or lounge softly.'

The inside article describes how the 235 design successfully scores in three big trends in coastal boating: (1) Reliable outboard power; (2) ease of use in mooring and beach visits via fully-tilting motors, easy boarding, and auxiliary rear anchor; and (3) most importantly, versatility and function for the entire family for all kinds of boating activity, from Grady-White's longstanding superior function as a sportfishing boat to tow sports, swimming, diving, and beach picnic and playtime. The Freedom 235 does it all!

Read Boating's review of the Freedom 235 now!